Sunday, April 8
by Guillaume
on 8.4.07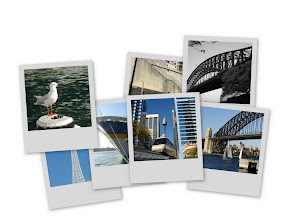 Last Sunday, I left our place in Chinatown for a nice walk along the water from nearby Darling Harbour to the Harbour Bridge and Circular Quay.
On the way I made a few stops to
take pictures
and
play some guitar
- with the magnificient silouhette of the Harbour Bridge in the background. The weather was so great, and quite representative of the blue skyes we often have had up to now.
Just for you,
I put my itinerary on a Google Map
with links to the picture so you can take a virtual tour in the city... before you can actually walk the walk yourself! As you'll see, there is a bit of everything - from a seagull to the ocean liner! Peppered by a monorail, high-rise buildings and wharfs.
As a
sage
would say:
Enjoy the promenade!
See photo album...
See map...