Saturday, June 23
by Guillaume
on 23.6.07


We've just spent one week in New Caledonia. 3-hour from Sydney by plane, this is a great get-away from the recent stormy and cold (meaning: around 10°C) weather in New South Wales.
I'll post the story and more pictures shortly but I had to share that I have found a place which I can call the most beautiful I have seen on Earth:
Ile des Pins
,
an island south of Noumea
, 35 minutes by plane.

Our first stop on Kunie (the local tribe name for the island) was
Kuto
where we discovered the bays of Kuto and Kanumera, probably some of the most beautiful unspoiled almost-secluded beaches I know (the island is secluded anyway but there are a few hotels and local tribes live there). Definitely a good spot for snorkeling with tropical fishes.

But it is the "piscine naturelle" in Oro,
a vast natural pool
separated from the sea by a large reef and rock wall, which has really made a big impression on me. First there is this amazing scenery when you access by walking in a shallow river bed created by the sea. And then when you actually go in the water, the pool reveals its corals and its marine life that you can discover simply by snorkeling (it's no more than 5-meter deep I'd say). I swam to the rocks to see the ocean and it was amazing to see the waves coming in and cascading between the various levels of the rocks to the pool.
There, I started getting this feeling of being alone on Earth, being a Robinson, when I heard a noise behind me in the water. It was a sparrow hawk which had just caught a fish at the surface, a delicate and aerial performance.
We only got to spend one day there as a treat for our 3rd anniversary and it's definitely a place Raquel and I want to spend more time visiting...
See photo album...
Sunday, March 18
by Guillaume
on 18.3.07

If you're in Sydney and it's a rainy day, don't think twice. Book a surf lesson. No better and more fun way to spend the day – you'll be wet anyway.
Actually, I had not planned this when I booked my surf lesson (online via
adrenalin.com.au
which I highly recommend by the way). And I had no idea that the bright blue sky and the sun would soon be eclipsed by a heavy rain for the rest of the afternoon when we arrived at Bondi Beach for my surf lesson at 1.30pm this Saturday.
Anyway, it was awesome (dude!) and I had a great time – when poor Raquel, who had joined to watch and work on her suntan, had to find shelter in the arcades nearby and comfort in a guava smoothie.
Raquel and I had already surfed a bit in Hawaii 2 years ago and, thanks to the help of the great Leo from North Bondi surf school "
Let's Go Surfing
", I managed to stand on my board in a few waves. A couple more lessons and some regular practice and I'm confident I'll reach my goal of knowing how to really surf by the time we go back to the northern hemisphere!
Afterwards, we headed for a nice warm lunch at the Hog's Breath Café where they accept wet tourists and American Express cards ;)
So, a bit more about the surf lesson… The wetsuit and the sunscreen are provided. And after a few stretching exercises and a "drag your board 500 meters" warm-up, you're quickly introduced to the key techniques to paddle, catch a wave and stand on the board. You also get an explanation on how waves and rips work and you learn to observe the water to know where to go. After spending enough time in the water to catch a few waves, you're back to the beach for a few more details, notably on the surf etiquette (who's getting which wave, where to circulate and take wave). The breaks are actually well deserved as standing in the water fighting the currents and paddling is excruciating.
Most importantly, you end up catching waves on your own and having a lot of fun.
And by a rainy day, there is a relaxing bonus: walking back with your board, you get a foot massage thanks to the sand on the shoreline being softly moulded by the raindrops.
See photo album...
Sunday, March 11
by Guillaume
on 11.3.07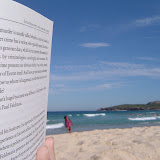 We discovered Maroubra last week-end and decided to go back this Sunday. This is arguably our favourite beach so far. Even if it is a tad further than the other eastern beaches it is definitely worthwhile because it is the most quiet (the street is far from the promenade and the strand is wide and large). There are less (no!) shop and animation but if that's what you're looking for, just head to Bondi. :)
The waves during the summer are powerful but not too dangerous so you're sure to have fun in the water (2 lifeguards areas make this real safe). It looked like the swell was actually great for surf beginners. It made me crave for my first lessons which I'm gonna book this week. I wonder whether I could find some after work sessions around 6pm just before dusk.
Anyway Maroubra is great and I'm sure we'll see more of it as Raquel is going to start giving English classes at the French High School located there very soon. Damn, French people know how to spot a great spot! Location, location, location!
See photo album...
Monday, February 12
by Guillaume
on 12.2.07

The legend, as told by our Lonely Planet guide, is that Manly was named so by its European discoverers because of the attributes (that's my interpretation) of the locals they found there. Well, I don't know if this is still true – although a pick from the promenade at nudist Lady Bay opposite the bay might give you an indication.
Today, Manly is a great place with shops and life around Le Corso – as well as the two beaches that this street connects: south west at the ferry pier is a small quiet harbour beach and east is the main reason to come here: a wide beach with impressive waves and nice promenade – very typical, I'd say, of Sydney. We didn't take a swim this time because the weather was so-so but we'll be back.
More than the beach, what I liked was taking the ferry to go there. It was really nice to finally be on the water as Sydney is an invitation to the sea. Embarking at Circular Quay, the ferry takes you through the bay, offering amazing views of the Opera House, the Harbour Bridge and the city. The ride is really smooth until you reach the ocean swell but even then it is just enough to provide kids (and grown-ups) with good fun. The way back gave us another perspective with a different lighting. I couldn't help to take picture after picture.
Manly is definitely a must do for the Sydney visitor. It'll take you half a day and you don't need a car. You'll be on water with great view of the city and highlight. What more to ask?
See photo album...